Interview by Adele Long
'But for Mt. Everest, Sally Westmacott might now be a professional concert pianist. Instead she…is one of the best…British women mountaineers'.  This is how Ingrid Cranfield began her article about Sally for the Observer on 4 March 1965.  
So, if Sally had not met Mike (Westmacott of the 1953 Everest expedition fame), would she have been a climber? When asked, she replied "I don't know. Because the bug is always there. I was climbing on the sandstone in Fontainebleu long before I met Michael". But she did concede "I fell in at the deep end with the Everest business. I was lucky".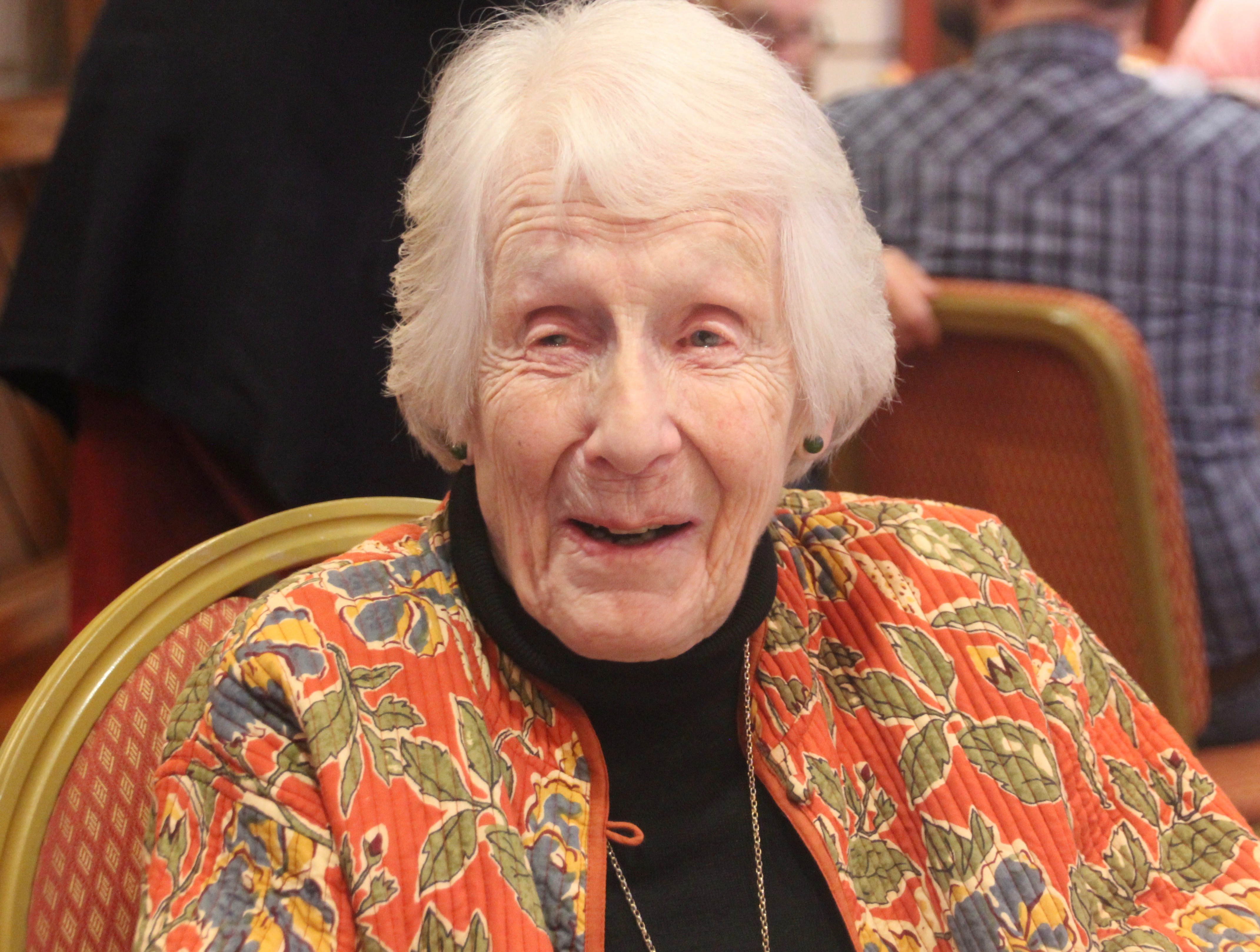 I met Sally in a side room of the Shap Wells Hotel on the morning after the AC dinner in 2019. My brief was to interview her for the Up Close and Personal column of the Newsletter. In awe of meeting this remarkable lady face-to-face, instead of the usual questions, I simply asked her to start at the beginning and tell me about her life.
Sally kept a diary, "I wrote everything up, what I did, who I did it with and what the conditions were like". This served as an aide memoir for her prolific contributions to the Ladies Alpine, the Pinnacle Club and the Alpine Journals. Less well known than her many climbing achievements may be her early life, how she met Michael and how her climbing began. 
Sally's parents, Sir Herbert John Seddon and Mary Lytle met at Ann Arbor, University of Michigan, when her father was there "on some sort of post graduate thing". Her mother, an American, was working at the University as a house mother. They met and got married in 1931. Sally was born in 1935 in a London clinic, "so technically I'm a cockney" she asserts. "My parents were living in Stanmore because my father was working at the Royal National Orthopaedic Hospital and we lived in a lovely old house in the hospital grounds. 
In 1939 her parents took her and her younger brother to see their American grandparents. The war broke out in the September, and Sally recalls "my father hightailed it for home because he knew he would be needed to put all the soldiers …who had been injured in the war back together again. So he didn't linger, he went straight back home and got on with his work during the war.…He did a wonderful job. The remainder of the family stayed in the States for five years and eventually sailed home in May 1944 on the Mauritania, which was being used as a troop ship. The family lived in Oxford for the next four years where Sally attended "the most ghastly school, Headington". 
Sally aged 20.
In 1948, her father was offered the post of clinical director at the RNOH back in Stanmore, and the family returned to the same house that they had lived in before the war. Her brother was offered a scholarship at Charterhouse boarding school and Sally was taken in by the North London Collegiate school where she describes herself as being "a rather inept pupil". She was rebellious, but luckily NLC "had the most wonderful headmistress in Dame Kitty Anderson" who realised she had a difficult child on her hands and encouraged Sally to make music her career. At that time she was being taught by Yvonne Catterall, whom she describes as a  "very inspirational teacher" and "a great pianist".
Sally considered medicine as a career, "I have always been interested in orthopaedics, I have watched my father operate, and then I thought I am basically rather lazy and I thought of all that paperwork and years of study, and also there are not many female orthopaedic surgeons because it is physically a very tiring form of operation". She also contemplated horticulture, but in the end opted for music. Her parents were supportive of her choice of career, while her 'much brighter…harder working…but not so good at day to day things" brother won a scholarship to Cambridge where he got a double first in engineering.
Sally also got a scholarship, to the Royal College of Music, where she studied piano with Arthur Alexander, "who was a superb teacher, and had been brought up in the Medtner tradition".
Her teacher for composition was Gordon Jacob, who according to Sally "didn't get very far, because I couldn't understand about the rules of composition, no consecutive 5ths, that sort of thing, and I kept saying to him Beethoven broke all these rules all of the time. Poor man, I don't think he ever managed to teach me anything". At the RCM, Sally teamed up with the daughter of an old friend of her parents called Alison Marshall who played the clarinet. They made quite a reputation for themselves playing together in concerts until, tragically, soon after she left college Alison fell out of an upstairs window and was killed.
Sally climbing at the Shawangunks circa 1964
In addition to music, particularly chamber music, Sally loved horses. When the family returned from the States, through a contemporary of her father's Sally was introduced to, and subsequently 'adopted as an extra grandchild', by Vivian and Sybil Smith who lived in a Georgian house with 1000 acres of parkland. Luckily for Sally, 'grandfather had a string of steeple chasers…he did very well with them and …I was allowed to ride [them] when they were up from training in the winter to when they were having holidays in the summer out at the estate…I rode a lovely animal called Silver Fame'.  One day 'grandfather' suggested she join him at Cheltenham races as he was running Silver Fame in the Gold Cup with Dick Francis as the jockey. Sally declined saying that she had to be at school. That year Silver Fame won it and Sally 'bitterly regret[ed]' not going.
Sally was introduced to Michael at a dinner party, she was 18 and he was 28. Her father's chief anaesthetist and very close friend had married Michael's first cousin, so after Everest "there was a thing of you know 'do come to dinner and meet our cousin who has just come back from Everest'". After meeting Michael, Sally says "well I really did get interested in climbing. I'd always been a tomboy. My father had climbed. I never wore skirts and pretty frocks. I wasn't interested in any of that sort of thing…much to my mother's despair. She was a very conventional lady and I didn't sort of go along with that very much."
Three years after they met, Michael went on an expedition to climb Huaguruncho. The mountain had been attempted previously by others, but this time Michael, with John Streetly, succeeded in reaching the summit. Then tragedy struck. "Michael had gone off to Peru in 1956 and we were thinking about whether we were going to get married or not, and I had the awful task of writing to him to tell him [that] Tom Bourdillon and Dick Viney had been killed climbing in the Alps. And that, I know, shook him because they were very close friends of his. Well it shook me too, really". 
They got engaged in 1957. Soon after, Michael took Sally to the Pen y Gwryd. Sally recalls "it would have been the 4th anniversary of Everest, and of course all the team were there. I can remember being very impressed when we arrived in the middle of the night having driven up from London, no M1 in those days, on the A5…I just thought we would creep in and go to bed. But no, everything was up and flowing and Chris Briggs was there with cheese and onion sandwiches and [it was] all absolutely amazing. I mean I had never been in this sort of situation before. And the next day Michael said 'well I think you had better try to do some climbing'". 
On the Younggrat with Chuck Loucks in 1969.
Love, and a love of climbing, blossomed, but not without incident. Michael took Sally to Idwal Slabs to climb 'Hope'. Unfortunately, Sally got well and truly stuck at the notorious twin cracks. Watching her were some of the older members of the Alpine Club, including Geoffrey Winthrop Young and Arnold Lunn. Sally was not best pleased,  "oh god it was so embarrassing, and I was furious. I wasn't frightened, I was furious. I can remember saying to Michael 'I am going to learn how to climb properly with somebody else' and so I took myself off to Plas y Brenin". 
Sally and Mike did not rock climb very often as a pair after that, but Sally honed her climbing skills at Plas y Brenin and became a volunteer instructor there for a number of years. She joined the Ladies Alpine Club as a graduating member in 1962, after she had done a few routes in the Alps, and was made a full member the following year. She was among the first women to join the Alpine Club in 1974, a year before the AC and LAC combined. From 1959 onwards she climbed extensively in the Alps, the US and the Himalaya. Today, at 85, she prefers to walk and sail.