Uisdean Hawthorn and Tom Livingstone went to the Central Alaska Range for 7 weeks in May/June 2017. Unfortunately they were unsuccessful in all their objectives (a new route on the Father and Sons Wall, reaching the summit of Mt. Hunter/Begguya via the Moonflower, and the Slovak Direct on Denali). 
They made an attempt at the Moonflower Route and reached the Final Rock Band after 17 hours of climbing, but bailed when a storm moved in early. After inspecting the Father and Sons Wall they realised it was in very poor condition with virtually no ice visible. There had been a month of good weather around March/April in 2017, which meant the south facing and low altitude wall did not form much ice. They acclimatised to the summit of Denali via the West Buttress route during unseasonably cold weather. Finally, they attempted the Slovak Direct route on the south face of Denali, but bailed due to storms. They were unlucky with the weather, and didn't see a single decent window during their 7 week trip.

Base Camp Life - Wednesday 3rd May
I lay in my tent, waiting…
What was I waiting for? I didn't know, but the pace of expedition life seemed to have condensed into eating, climbing or waiting. 
I couldn't tell if my sunburn was hospital-grade, or it was just the funky light from the red fabric of the tent. It was a borrowed Crux model, and it really stank in there (sorry Crux). Everything seemed off-colour; it was like the contrast had been altered.
Uisdean and I were resting, waiting for an opportunity to climb Mt. Hunter. The 1400-metre North Buttress tempted us from base camp, tantalisingly close. It stood proudly over the glacier, but when we hung out with Colin Haley and 'chat shit,' we realised climbing the north buttress is only two-thirds of the way to the summit. And reaching the summit, as we all know, is all that matters here; everything else is just an attempt. Our egos insisted we'd never reach the Cornice Bivi and then call it good - but I'm sure everyone says that until they get there...
In the evening, the stove roars from the kitchen - more of teepee tarp actually. It's pitched at a wonky slant, and collapses often, but we bodge it all the same. We lost our washing up liquid - it slowly melted into the snow on a warm day - so Uisdean cleaned our pots and pans with hand soap, which explained the funny Coconut and Jasmin aftertaste. 'Soap is soap, right?'
Moonflower (Mt. Hunter/Begguya) attempt - Monday 7th May
Yesterday morning we stumbled back onto the glacier after attempting the Moonflower route on Mt. Hunter/Begguya. We reached the Final Rock Band after 17 hours of climbing, moving well and enjoying the continuously high quality. Our pace slowed as the evening shadows grew, but we still felt strong as we melted water. 
I'd watched dark lenticular clouds cap Foraker/Sultana and Denali during the afternoon, and wondered if the bad weather forecast for two days' time was arriving early. It wasn't a great surprise when the radio crackled at 8pm and Lisa, the Kahiltna Base Camp manager said, 'bad weather is due to arrive much earlier than expected.' 
Our hopes of climbing to the summit of Begguya suddenly stalled, and we talked of options. Of course, we could always climb to the Cornice Bivi, but to what purpose? The 'top of the wall' carried no importance for us, and we considered anything less than the summit to be an attempt. It seemed pointless to climb higher to an arbitrary point (the cornice bivi), in the face of incoming bad weather; it would only protract our descent. 
Soft, perfect snow crystals began to float through the air, landing on our jackets. 'I guess that settles it,' we said, throwing the ropes. We began to rappel through the Alaskan night, back down the route.
We finally crossed back over the 'shrund 11 hours later, exhausted. Apart from a few hours of dozing on Friday night, we'd been awake since Friday morning. We arrived back on Sunday morning.
Festering in Storms - Sunday 14th May
Three weeks of our trip gone, one month left. I felt confident about that amount of time - it gave us a few weeks to acclimatise and a few weeks to wait for a weather window. All we really needed were 4 days of stable weather for a route - how hard could that be?!
After our Moonflower attempt, we decided to focus on our main objective - Denali - and moved higher up the mountain.
But we were now stuck at 11,000ft camp and it had been snowing hard since last night. The tent quickly became buried, and gusts of wind blew snow through the ventilation holes in the tent. Thin puffs of snow would funnel into our sleeping area, always finding a way in despite our best efforts.
We woke after 14 hours sleep, ate porridge in our sleeping bags, then warmed the tent with the stove. The ceiling started to rain condensation and our sleeping bags became very damp. It was like being in the Tropical House at the zoo: 100% humidity and a light rain falling. We were grateful of a rest day - it was pretty tough hauling our enormous sled loads up the mountain. As Ripley said in 2012, 'sled hauling sucks ass!'
I'm glad Uisdean had a hard drive filled with movies. We started Band of Brothers, still lying in our sleeping bags, waiting for evening. Then we could go to sleep for another 14 hours; oh joy! We hoped the storm ends soon...
Later, I pressed my head against the wet fabric of the tent, just to feel something. I'd been lying, trapped in this cocoon, for weeks - at least, that's what it felt like. The icy temperature seeped into my forehead and I remembered what it was like to feel something again. 'Ah yes,' I thought, recalling where I was: still lying down, in a tent. The wind eased outside and I wondered if the storm was passing. Another gust slammed into the tent and rocked it wildly: this storm's not finished yet. 
Stale smells hovered in the tent. Dried sweat from t-shirts, worn for 14 days straight. Damp down from sleeping bags, repeatedly soaked by condensation. Disgusting socks, from multi day routes and hauling sleds. 'Are our senses sharpened, or dulled?' I wondered. 
The contrast of pale snow against a deep blue sky seemed ethereal, hyper-bright. The white sunlight seemed to almost strobe. But in our storm-bound days, we felt the absence of temperatures, fresh fragrances, and real colours.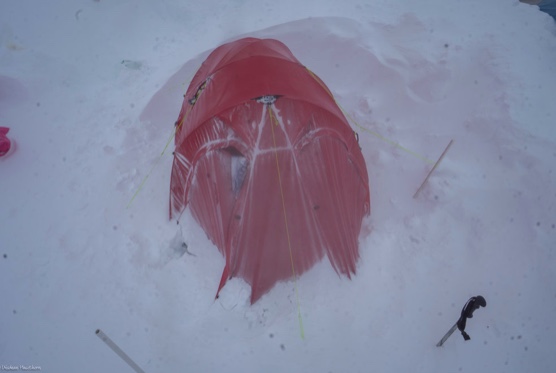 Life at 14,000ft Camp - Wednesday 17th May
Breathe. Pause. Sit up. Pause. Breathe. Pause. Unzip sleeping bag. Breathe... the air felt thin, as though the oxygen had been wrung out of it. We were camped at nearly the same height as Mont Blanc (4,808m). 
Lying in our red cocoons, breathing heavily, we waited until the sun hit the tent. 'It'll be here any minute now, come on…' I think, willing the warmth. I could see half the camp in sunlight. A few people were standing outside their tents in enormous jackets, like frozen penguins on the ice. They were either in the cold, dark shade or suddenly basking in the morning light, flapping their arms. I combined my base camp mat with the Exped Hyperlite for extra warmth.
My sleeping bag had a white layer of frost and ice where the condensation had frozen. I kept my head totally still, avoiding the shock of ice on bare skin. We would continue with our acclimatisation over the next few days, but for now the temperature had dropped and the forecasts said -40ºC. All we knew was, it was fresh…
After checking out the Father and Sons Wall, we realise it's in very poor condition. This was our original objective, and was supported by grants from the BMC, Alpine Club and Austrian Alpine Club. It's almost devoid of ice, and wet streaks on the rock buttresses indicate the snow is melting fast. I suspect it's because of the relatively low altitude of the wall, and the south-facing aspect. The long period of good weather during March and April probably melted a lot of existing ice and prevented any new ice forming. It's a low snow and ice year in the Range, and the F. & S. Wall has suffered heavily.
Acclimatisation - Saturday 20th June
During my 2012 trip to Denali with Tom Ripley, I'd learnt a lot about acclimatisation. We spent only two days above 14,000 ft camp: a day trip to 17k camp and an attempt at the summit. I found it very hard to acclimatise, and didn't manage to walk to the summit via the West Buttress route, unlike Ripley.
On this trip with Uisdean, we spend much more time acclimatising, and I subsequently feel much better operating at high altitude. On separate days, we go to 16,500ft, sleep at 17k camp, go to 18,000ft, and then reach the summit. We also spend about a month at 14k camp, which certainly helped.
Slovak Direct Approach - Monday 5th June
After acclimatising, Uisdean and I had about three weeks left of our trip. We felt fairly confident good weather would materialise. 'Traditionally,' there is often a high pressure at the end of May/start of June, but it's important to note the weather in Alaska is notoriously unpredictable, unstable and poor! The forecasts are also usually wrong (unless supplied by a meteorologist).
However, with only about 15 days left before our international flight, we still hadn't seen any good weather on the horizon, but we'd had two 'ok' weather days in the past week. The weather continued to be unsettled. Sunshine and snow mixed in an afternoon; we had snow at 14k camp but it was calm at 17k; high winds blasted the summit but it was eerily calm at 14k.
We were lucky to be able to speak to Dougie, Rob's friend, who sent us detailed analyses of the forecasts. His accurate and thorough interpretations had been useful so far, but his predictions for Monday to Friday weren't looking stellar. The best we could see was 'Tuesday and Wednesday will be less windy, less cloudy, and unlikely to precipitate.' 
Many forecasts conflicted, indicating the weather would continue to be unsettled, and with little option (due to time pressure) we decided to launch for the Slovak Direct route, on the south face of Denali. We planned for a day to approach and then hopefully three days on the route.
However, neither of us felt much confidence in the weather window. It wasn't forecasted to be four days of high pressure, which is what you'd like for getting on one of the biggest alpine routes in North America. 
Our gut instincts were a mess, and I don't think either of us felt fully confident because of the poor weather. We agreed that if we didn't have the end of the trip time pressure, we wouldn't have launched with this forecast… but if you don't try, you'll never know.
Raph, Rob and Dougie all said, 'I wouldn't launch on this forecast.' We tried to be like George Lowe, separating our ambitions from our situations in the mountains... but it didn't work, so we went anyway. 
The Wickwire/Seattle ramp was a direct, fast and relatively safe way to approach the Cassin, taking only four hours. The climb up to the ridge and then 6-8 raps and some downclimbing was also relatively fine, and deposited us near the base of the Slovak, in the East Fork of the Kahiltna. The total approach time was eight hours. 
In future, however, I'd consider approaching the Slovak on skis via the East Fork because you can leave all your food and kit at BC, then acclimatise via the West Butt. with minimal kit/food/fuel. This saves heavy sled hauling up to 14k, which sucks. The East Fork is also a relatively relaxed approach when frozen, and takes around seven hours from 7800ft Camp.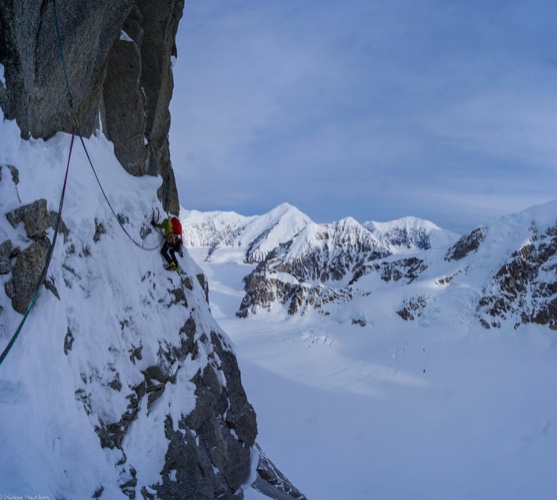 Slovak Direct Attempt - Tuesday 6th June
Localised cloud had caused light snow to fall throughout the night. Although we could see patches of blue sky above, the dark clouds and sound of snow falling on the tent didn't encourage us. Lying on my Hyperlite mat, thinking of what lay above us, we knew we were in for an adventure. We could see the tracks from the girls team (Gilbert and Chantel) approaching the route, which was a novelty: two teams on a route which normally sees one ascent every five years!
We woke at 3am but reset the alarm, until the snow and clouds cleared at 4:30am. We were quick to get ready, but spent the next hour debating whether to attempt the route. So much felt wrong - the poor forecast, the localised bad weather, the spindrift pouring down the route and the winds whipping at the ridge above. What if we got caught in a storm, high on the route? What if this wasn't a good weather window? What if we climbed too slowly because of the weather? We longed for a good forecast, but this window of 'less-shit' weather was all we could see as our trip approached its' end.
Despite our gut instincts, we decided to climb. We had to try; we'd come all this way. We even took goggles and the extra bail wires from the Wickwire approach, rationalising we could always bail from the hanging glacier above.
After soloing the initial 1000 feet/350m, we put the rope on and I led the first M5 pitch. As I belayed Uisdean, Chantel appeared through the swirling spindrift along the ridge. It was pretty surreal to see these two, and they were bailing. They'd climbed to 14,500ft (near the base of the long ice corner pitches) before being forced to retreat due to spindrift and bad weather. They spent a day getting weather forecast updates at the Hanging Glacier bivi. All forecasts had changed from our update two days ago. The new prediction was for stronger winds and worse weather.
Uisdean and I are psyched, but we have our limits. When an experienced team with an updated weather forecast bails, and you already feel like you're pushing it… it felt like we'd reached our limit. After a long time not wanting to accept reality, I began to re-lead the M5 traverse, back towards the ground.
Gilbert and Chantel thought they'd picked the best weather window, leaving three days earlier than us. We thought we'd picked the best window too. This is testament to the unsettled and uncertain forecasts. Uisdean and I know when to push it, but this route felt like we were trying to force it. How badly did we want it? Not enough to climb into a storm, with the only way off being over the top of the highest mountain in North America.
Once back on the glacier of the East Fork with Gilbert and Chantel, the reality of seven weeks' hopes and plans was tough to bear. But that's the nature of the mountains. Sometimes we win, sometimes we lose, but it's always an adventure. Getting slammed by bad weather is better than falling off, anyway. I hate bailing, but this was the right reason. Denali continued to be shrouded in cloud.
The walk out of the East Fork was tiresome. It felt safer as a party of four, but the hot afternoon baked the snow and I broke trail for hours. I lost count of the number of times I fell into crevasses, sunk up to my chest or had to swim through treacle snow. It felt like it went forever, but eventually we returned to 7800ft Camp. The next day's walk to 14k was equally long. It was a bitter end to the Slovak, but at least we weren't fighting for our lives in a storm. Denali continued to be smashed by the weather.
The following day we flew out of the mountains; the forecast still looked poor. The shower that evening was incredible after 42 days in the mountains. The beer was even better.